How do things become a fad
Are you one of us 9 things only girls from the 90s know!
But the 90s had more to offer than bizarre fads! Let's take a look back: Here are some things that girls who grew up in the 90s will surely remember all too well - with horror, with a smile and certainly also a little wistfully ...
1. Styling disasters: Buffalos, ass antlers & colored hair!
Tattoo chains, Buffalo boots with centimeter-high soles, frayed jeans, cropped tops and brightly colored hair: there were almost no limits to the fashion sins of the 90s. A wonder who still looked good. In addition, you felt totally wild when you got a tattoo just above the back of your waistband. Too bad that a few years later it was chosen as a laughing stock as "ass antlers". In addition, pearl bracelets were worn, which - depending on the color of the stones - had a certain meaning.
2. Little monsters for your pocket
Tamagotchi, Furby, Polly Pocket, Diddle Maus or the Trolls: We really liked the little beasts. They stressed us out, wanted our attention or just dangled from our Eastpak backpack. But let's be honest: Furby is just too cute ...
3. Look that up!
Incredible, but true: in the past you found a place - without typing the street or house number into the app - but by means of a city map that was so bulky and large that you could never fold it up again. And if you didn't know something and asked your parents, you didn't say "google it quickly", but rather "look it up in the lexicon".
4. The dear landline
Goodbye privacy: If you wanted to call your crush, you had to stand in the parental hallway with the landline phone, as far as the cable could reach. And also had to fear that his parents would answer it and first have to explain who you are. If you wanted to go online, you got into trouble with your parents because someone could try to call you in the meantime. And then the trouble when the high phone bill was in the mailbox because you had surfed or telephoned for too long. But no wonder if it takes an hour to download a song (illegally!) From the internet ...
5. Cell phone ?!
If you were one of the few who owned a fancy, giant-sized bone cell phone like the Alcatel One Touch Easy, you had to read the SMS sideways because the display could only show two lines. As a small student, however, you usually didn't have a cell phone and were dependent on phone booths, change and phone cards. If you had an appointment and the other person had to cancel spontaneously or was half an hour late, then you didn't get a short text message or a phone call, but you waited and waited and waited ...
6. Taking photos of yesteryear
"Show me how I look" and "Please delete that!" did not exist. After all, it wasn't until the end of the film (36 pictures!), Plus the subsequent development, that you learned how terrible you looked - and how shaky and with what red, flashing eyes. Do you want to quickly photoshop or use an Instagram filter? Was not.
7. Soaps, talk shows & videotapes
With 'Good Times, Bad Times', the soaps stormed the stations, pay TV came on, Viva started and in Beverly Hills we suffered with the kids of the rich. We were so in love with Patrick Swayze that we would all have worn a bowler hat for him, and with Hans Meiser the time of gruesome talk shows began. In addition, the ladies at 'Tutti Frutti' wiggled their breasts - but of course only dad was allowed to watch that. And if you wanted to record a program on a video cassette (!), You suddenly dubbed Papa's favorite documentary or missed the beginning of the program because the video cassette was not rewound.
8. Euro-trash conquers the world
Tic Tac Toe brought the Assi style into the music videos, the 90s Euro trash boomed from the loudspeakers, there were countless cuddly rock CDs, Bravo hits and in the middle of it all a great ray of hope: grunge, with Kurt Cobain and Nirvana.
9. They talked about it
There was a lot going on in the 90s. Be it the clone sheep Dolly or the sex affair between Bill Clinton and his intern, the reunification of Germany, the introduction of the five-digit postcodes, the Gameboy with Zelda, the Discman that replaced the Walkman, the cool sneakers that blinked sideways while walking and Marusha's brightly colored eyebrows at the Love Parade. Oh yeah ... those were the days!
Typical 90s: Do you still know that?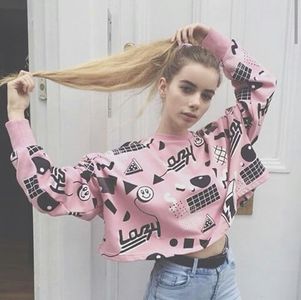 © we heart it / hemmoholics
Discover our newsletter!
We have so much to tell you: news, trends, tips and much more.
I register