How was your first sailing experience
Interview /

Iodized memories of a skipper with Thibault Vauchel-Camus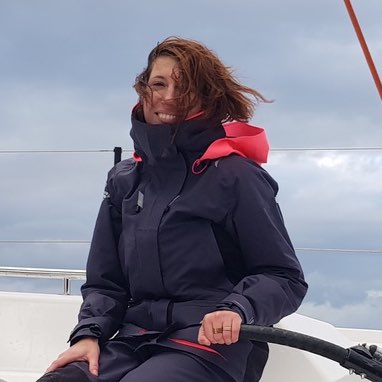 Chloé Torterat
Published on
What's your first memory of mer?
I have vivid memories of the sea, despite having sailed before. The arrival of the Route du Rhum from Florence Arthaud in 1990. It's a pretty strong memory.
On the personal side, I remember my internship in a small catamaran, KL 10.5, in the bay of Saint-Brieuc.
What made you decide to carrière yourself on this website? showcase?
I don't know if there really was one. By making them, you always want more. Passion inspired me to do more, sail on bigger boats, travel to sail, etc. Until it progresses and is recognized by a training center.
I also met some great sailing characters like Roland Jourdain, Laurent and Yvan Bourgnon. We were participants in my world of sport catamarans and they invited me to sail with their boat. I admired it.
When Fred Duthil left Olympic sailing to drive the Mini 6.50 and then the Figaro, he took me under his wing. I helped him prepare his boat, the deliveries. He offered me my first opportunities to run a boat, be it alone or in two-handed operation. He trusted me and I accepted that trust.
I got a real kick from faire? to get! Until he told me: "I'll try, I'll go boating, I'm fine. "From 2007 to 2009 I started a Figaro project that failed due to a lack of funds.
So I worked in the real estate industry for three years. I kept running errands, deliveries when called, but couldn't make myself available all the time. Then one day I was offered navigation and I snapped. I quit my job. I had no responsibilities - single, no kids, no financial obligations - and I realized that I was free, that I could do it. At the age of 30 and over, I realized that I hadn't done much with my life and that it was causing some frustration.
The stars have aligned. Jérémie Lagarrigue asked me to sail on Hydoptere.ch in Switzerland. I met Victorien Errusard, whom I had known for a long time. "I want to start a sports project, but not alone." he told me. And it's over like ça ?!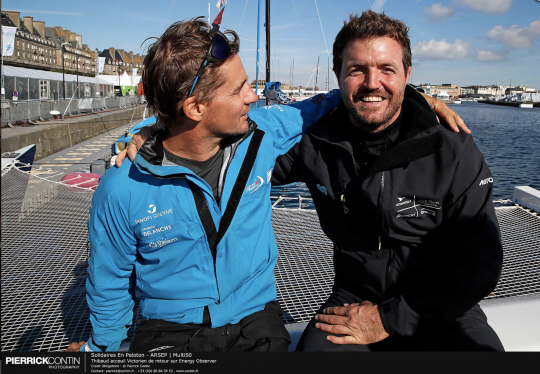 Thibaut Vauchel Camus and Victorien Erussard © Pierrick Contin
Did you have a mentor or other skipper who was the marqué? has for you
As I said, my first unforgettable sailing experience was Florence Arthaud's victory in the Route du Rhum in 1990. I was 10 years old. She was barely 50 kilos, 1.60 meters tall and came on a crazy machine for gagner ?! I met you in Guadeloupe and saw you something against exceptionnel? Companies!
At the same time, Laurent Bourgnon won the Route du Rhum in 1994 and then in 1998 ... He came from the same world of sports catamarans (Hobbie Cat) as me, we were in the same age group ... It spoke to me!
In another genre, Loïck Peyron, with his talent and his way of expressing himself. He popularized and demilitarized sailing. I saw these people in the distance, but they inspired me.
Very early on I had sailing instructors in Guadeloupe - Franck Burnier - and in Brittany - Pierre Gobert - who inspired me to work in a group. He advocated atmosphere, joy, sharing and did not focus on any particular individual. "We are a group, even if everyone has their own particularities and strengths."
For them, the group evolved, as did sharing. The idea was not to create constraints, but to navigate to progress. Of course we enjoyed ourselves, but we had to work. And when there was no wind, we did something else, cycling and even paddle ?! We invented some kind of paddle long before it was known.
Thanks to Fred Duthil I was also able to cross the different sailing disciplines and discover windsurfing in France. I've done a lot of regattas with him. It was our playground, it was fun and I had a lot of fun on the water. Each discipline has its own feeling.
I've been fortunate to have been carried by these great sailing stars and by people who share you daily. You shouldn't stay in your box and open yourself to other practices. That's what I did when I was sailing, surfing, surfing, surfing, or kitesurfing.
Which boat has you got the best souvenir? leave?
My school was the Hobbie Cat 16. It's a bit like the sports catamaran's laser. It is the most widely used catamaran in the world. Everybody knows him. It allowed us to share what we were doing very easily and it produced a fairly dense fleet, of good level and from all horizons ... the skippers were from Africa, Papua New Guinea ... it was a support, who collected all the flags of the Olympic Games. And a diverse fleet: young versus old, male and female ... With the Hobbie Cat there was a real intersection of culture, nation and experience.
It was thanks to the Hobbie Cat 16 that I met the Burgundians.
I also did an Olympic attempt in the tornado with Damien Seguin. It was a fabulous boat that went fast and had many options. It was only used for right and left racing while there was real potential for raid navigation. I didn't like it too much.
Then the F18 was born. It attracted an exciting audience with great challenges. I've traveled a lot in F18. That was the spirit of raid sailing. I could also mention the Flying Phantom, a boat that volait ?! It was incroyable ?!
But the base for everything is the Hobbie Cat 16. I met a lot of people there like Jeremy Lagarrigue, Victorien Errusard, the Bourgnon brothers ... It was a fabulous base.
In Guadeloupe we went on raids, beauty, we put a tent on it ... There was no stress, it was easy. It was a goddamn tool of freedom. That's the baseline of Hobbie Cat.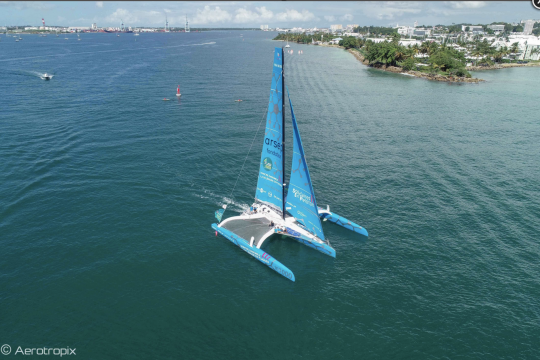 The Multi50 Solidaires En Peloton - ARSEP
What is your greatest success with marin?
I took part in my first Jacques Vabre, then my first Route du Rhum and so on. I've seen things so strong. Success is the pride that comes from it. Today I started a project with Victorian that we share with as many people as possible. Basically, sailing is an egocentric approach, but in this project we put our energy into the service of a cause, multiple sclerosis. We sell dreams that we share with our friends, sick people, teachers and others ...
It's a terrible disease and we thought we were going to use a personal project for a bigger cause. It made us grown up. We had other encounters, discovered other ways to surpass ourselves, and it felt good. It keeps us on the ground. Even if sailing sells dreams, in the end I am just a passionate person who has the chance to live my dream.
In 2019 this is our 7th season. We're always there, we're making progress, and our partners are loyal. We are congratulated on sport and thank you very much for what we are doing. It is really nice.
On my boat, I let a hundred people sail, I let them dream, we raised tens of thousands of euros for research, we collected patient reports and the impact this has on their lives. It is really valuable.
There is also the sporting successes, the podiums on the Route du Rhum, the English Transat, on which I learned that I would become a father. It's a set, it's very difficult to choose a specific theme.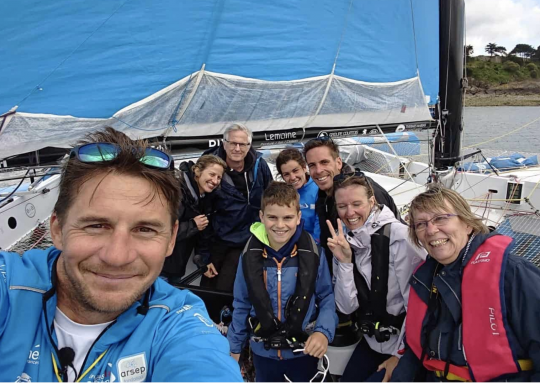 Navigation with patients © Thibaut Vauchel-Camus
What is your daily practice of plaisance ??
I would like to practice. Every day it would be nice to spend a weekend with friends and family. I like to go by boat. There is a great place on Saint-Malo, the Chausey Archipelago. Its magical. I love going there during the day or spending a weekend there. It's a bit like a private island, we go on a paddle to hunt lobsters and then have a drink in the bistro ...
When I arrived in Guadeloupe in the winter of 2018, I took a course in surfing, kitesurfing, kitesurfing, kitesurfing ... Local time is running out. There is the rhythm of work, with the constraints of weather and tides. My personal life also requires organizing with my little girl.
That's why I mainly practice coastal jogging around my house and paddling.
If you hadn't been a skipper, what would you have been fait?
I do not know. I dont know. I had an early taste for the life and earth sciences. I would have liked to become a teacher, work in the world of biology, wake up to this science. I would have been by the water.
I really enjoyed being a real estate agent which I did by accident. Maybe I would have kept investing in an inheritance and taking time out to sail.