Why are machine guns fired
Machine gun MG 08/15
Objects in relation to ...
Objects to keywords ...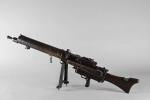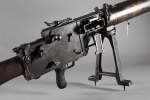 description
Light MG 08/15 with wooden shoulder rest, pistol grip and bipod. The model is the light version, which was further developed from the heavy predecessor model MG 08 with the changes mentioned above from 1915. The amount of coolant in the water-cooled device could also be reduced from 4 to 2.8 liters. In this modified version, the MG 08/15 was issued to the troops from summer 1917. According to the stamp, the manufacturer of the machine gun shown was the German Arms and Ammunition Factory in Berlin-Spandau. The machine gun became a symbol of the industrialized mass war during the First World War. The defending side in particular gained considerable advantages by using such machine weapons. Cavalry attacks and the infantry rushing across the open field became senseless military maneuvers if the enemy had sufficient machine guns to defend himself. The "light" MG 08/15 (08 after the introduction year 1908, 15 for the year 1915 (further development)) still weighed almost 20 kg when fully equipped. It could be fired up to 450 rounds per minute. (Temporary loan (11.2015 - 09.2017) from the Defense Technical Study Collection of the Federal Office for Equipment, Information Technology and Use of the Federal Armed Forces, Koblenz; cap and tube were removed for the period of loan.) [Ludger Tekampe]
Material / technology
Steel, iron, wood
[Time reference]
1914 - 1918
Produced
1918
Notes on usage and citation
The text information on this page is freely available for non-commercial use, provided the source is cited (Creative Commons License 3.0, by-nc-sa) As a source of information, please also state the name of the museum and the name of the museum in addition to the Internet address the text author, insofar as this is expressly stated. The rights for the images of the object are displayed below the large views (which can be accessed by clicking on the smaller views). Unless otherwise stated, what has just been said applies to use. The name of the museum and the name of the photographer must also be given when using the image information.
Any form of commercial use of text or image information requires consultation with the museum.