Diabetic socks | What socks for diabetics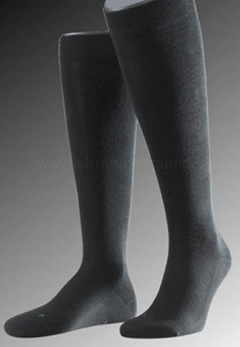 Diabetic socks are socks that are especially suitable for diabetics or people with sensitive feet. To prevent pressure points, they are knitted without elastic and seamless. So there is no cutting into the cuffs.
Who are diabetic socks suitable for and why should they be worn?
In diabetics, the feet and legs are body regions that are very sensitive and therefore require special attention. Often it is the circulatory disorders in the body regions far from the heart that cause difficulties. It is particularly important for people with diabetes to wear socks with cuffs that do not hinder blood flow. Socks for diabetics are therefore always made without an incisive elastic waistband.

Likewise, socks and stockings for diabetics must not have bulging toe seams, as those affected have little feeling in their legs and feet. The toe seam would cause pressure points, while those affected do not feel that the seam is pressing too hard. Injuries that heal poorly could result.
Properties and functions of diabetic socks
Diabetic socks are knitted from a special thread with natural silver embedded in the lining thread. The natural silver gives the socks the following properties:
Inhibition of bacterial growth
Inhibition of odor
Wash resistance
Inhibition of Infections
Inhibition of fungal growth
This means that diabetic socks have an antibacterial effect and offer effective protection against fungal and bacterial infections. The integrated silver also combats odor bacteria. A hand-linked sock tip ensures a seamless toe area. The sufficiently wide waistband without elastic also ensures unhindered blood circulation and freedom from pressure in the skin. Thanks to a high proportion of natural fibers, such as in the Diabetic socks, a high level of skin tolerance is guaranteed. For people with sensitive and often cold feet, for example these diabetic sockssuitable.
The excellent fit of the diabetic socks
A good fit is particularly important for socks for diabetics. Even if the cuffs are made without elastic, the socks sit very well due to the elastane they contain and do not form creases that would pose a risk of injury. Overall, the socks nestle very gently against the foot and leg. This means that diabetic socks offer a high degree of fit and comfort.