How to Download Instagram Chat History
If you have sent and received some direct messages on Instagram, you might ask yourself how you can export the messages? Can I save the Instagram chats so that they can also be read outside of Instagram? Even if Instagram does not directly offer an export function for direct and chat histories and messages, you can use the so-called "data download" function to request all the data that Instagram has saved about you. This data naturally also contains the messages and currently even the deleted messages (only your own).
Save Instagram chats with screenshot
If you only want to save individual sections from an Instagram chat, the easiest way to do this is using the screenshot function. A screenshot from a normal chat is not visible and does not trigger a notification. The screenshot notification is only available on Instagram for the self-deleting content.
Export Instagram messages via data download
If you want to export and save a complete Instagram chat, you should use the data download function. With a few simple steps you can use the function to call up your data stored on the Instagram servers, including the messages. You can request the data download at any time free of charge via the app or via the website.
Start the Instagram app and open the settings.
Under "Security" you will find the menu item "Download data" under "Data and history".
Now type in your email address to which the data should be sent. You will then receive an archive with all your data within 48 hours.
The archive contains the messages.json in which all your chats and messages are stored.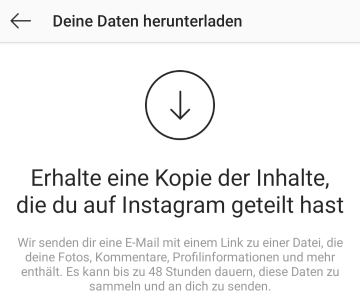 Incidentally, a so-called JSON formatter can be used to make the data a little more readable.